Oxy'z Oxygen Generator (Only available in Singapore)
Description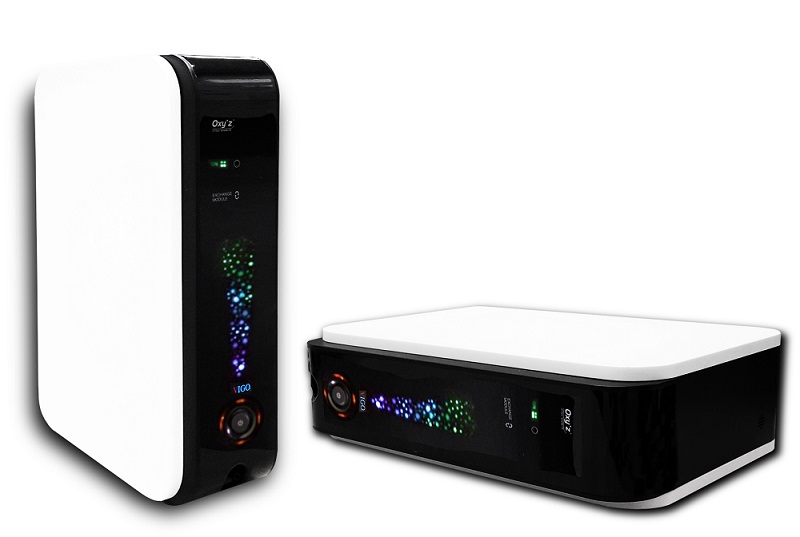 It is a high –concentration Oxygen Generator which gives out over 40% of oxygen density that improves your blood flow, basal metabolism, immunity and recovery from fatigue.
Benefits
· Boost Immunity
· Enhance Memory
· Improve Concentration
· Increase Blood Circulation
· Reduce Hangover Impact
· Regenerate cells resulting in Beautiful Skin
· Enhance metabolism resulting in Weight Loss
Specifications
1. Dimensions (W x D x H): 80 mm x 186 mm x 290 mm
2. Weight: 2.80kg
3. Oxygen Generation: RVSA method
4. Inhalation: Neck-set Inhaler
5. O2 Concentration: Approx. 40%*1
6. O2 Flow Rate: Approx. 2 lit/min*2
7. Power Supply: DC12V/SA AC100V - 240V
8. Power Output: 22W
9. Negative Ions: Approx. 300,000/cm3*3
10. Noise Level: Approx. 40dB*4
11. Colour: Black & White
Features
· Patented Japanese Technology
· Dual Power Tap (100 - 240VAC)
· Dual Positions (vertical & horizontal)
· Mutiple Uses (use in vehicles & outdoors with optional adapter)
· No Special Installation
· Easy Maintenance
· 40% Oxygen Concentration
· 2 lit/min O2 Flow Rate
· 40dB Low Noise
· Negative Ion
· Aromatherapy (Optional)
Package
· Oxygen Generator x 1 unit
· Oxygen Concentrator Cartridge x 1 piece
· Neck-set Inhaler (with an aroma capsule/filter) x 1 piece
· AC Power Cable x 1 piece
· AC - DC Power Adapter x 1 piece
· User's Manual x 1 piece
FAQ
1. How frequent can we use the Oxy'z?
It is recommended to use it once a day for 20 minutes. For chronic condition, it is recommended to do twice a day.
2. When can we use the Oxy'z?
It can be used any time of the day. However, it is preferred to be used in the morning. For chronic condition, it is recommended to use it once in the morning and once in the evening.
3. Why do we need to have more oxygen?
We need more oxygen because if there is deficient in oxygen intake, it will harm our body. Please refer to the following table for reference.
Table 1: Effects of Oxygen-Deficient Exposure
| | |
| --- | --- |
| Oxygen concentration (% vol) | Health effects of persons at rest |
| 19 | Some adverse physiological effects occur, but they may not be noticeable. |
| 15–19 | Impaired thinking and attention. Increased pulse and breathing rate. Reduced coordination. Decreased ability to work strenuously. Reduced physical and intellectual performance without awareness. |
| 12–15 | Poor judgment. Faulty coordination. Abnormal fatigue upon exertion. Emotional upset. |
| 10–12 | Very poor judgment and coordination. Impaired respiration that may cause permanent heart damage. Possibility of fainting within a few minutes without warning. Nausea and vomiting. |
| <10 | Inability to move. Fainting almost immediate. |
4. Why do we lack of oxygen?
There are 3 main reasons that we are lack of oxygen:
a) The volume of oxygen in the atmosphere has decreased, while carbon dioxide (CO2) has increased steadily.
b) Our lung capacity is weakened by aging, while the lung's respiration is also reduced. This leads to oxygen deficiency, aging and lowered immunity.
c) Adverse habits and lifestyles, e.g. stress, smoking, drinking, insufficient exercise, high-calorie intake, high-fat diet, etc., also deteriorate oxygen intake.
5. How does the mechanism works?
The atmosphere contains 21% oxygen (O2) and 78% nitrogen (N2) and other trace components. When air passes through the zeolite cartridge, the nitrogen and other atmospheric components will stick to the surface of the zeolite and the output will generate concentrated oxygen (40% density).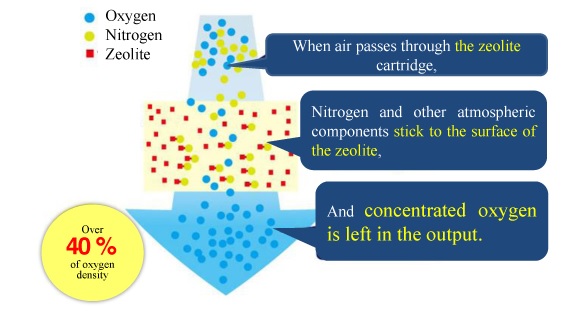 6. What kind of maintenance is required?
It only requires replacing the filter cartridge every 400 hours usage or once a year, whichever comes first.
7. When do we know when to replace the filter cartridge?
When the red light indicator next to the words "Exchange Module" at the front of the Oxy'z is lighted up, it means that it is time to replace the filter cartridge.
8. Will there be side-effects for inhaling too much oxygen?
There is no side-effects for inhaling 40% high-density oxygen, as long as the person do not use it more than the recommended usage (please refer to #1) .
9. Can the Oxy'z be used in the car?
Yes, it can be used in the car with the car adaptor. It is available for purchase separately.
10. Who can use the Oxy'z?
Most people can use the Oxy'z, especially the following people:
• Stressed-up students
• Tired working adults
• Elderly folks
• Active sportsmen
• Patients with chronic health conditions (E.g. Asthma, Cancer, Dementia, Fatigue, etc.)
Order Form